Innoware is no stranger to overcoming challenges. We've been in the business since 2001. No company lasts as long as we do without facing their fair share of adversity. It's what we learn from those times that matters. In our case, it's how to make our clients feel valued.
This is why we put a lot of stock in our reviews and feedback. They're the most direct and shareable form of critique our clients can give us. It lets us know what we still need to improve and the aspects of our process they like. Our latest review is no different, except it led to one of the more significant developments in our growth as a company.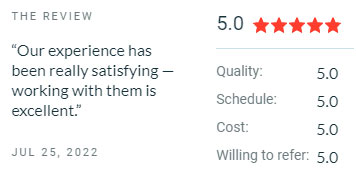 Thanks to this latest review's high score, we were included on a list of top ERP consulting agencies on The Manifest. They are a B2B platform that creates rankings of the best companies in various industries to highlight their services to potential clients.
This is a significant development for us as a team, as it raises our status on the internet. This isn't the end of our journey, though. We know our team can accomplish much more because we have all the skills, knowledge, and experience to climb the ranks. We'll be working double time to ensure that our clients get the best possible experience from us.
For over 21 years, Innoware has been helping enterprises around the globe to adopt innovative management information systems, optimize business processes, and provide implementations and related support services for ERP and CRM (Microsoft Dynamics 365) systems, AZURE cloud solutions, and Microsoft 365 for business.
Expert knowledge and quality business solutions delivery allowed Innoware to become a Gold Certified Microsoft Partner and hold this status for over ten years. Innoware offers a phased and personalized approach to project alignment and execution, enabling each client to achieve their unique vision.
We offer a flexible approach, depending on each client's specific objectives.
Thanks to our unique project methodology, we know exactly how to manage complex projects while ensuring high-quality implementation services are delivered to all clients. Innoware has fulfilled more than 400 projects in manufacturing, distribution, professional services, and other industries.
Our implementation management methodology is a key to achieving defined business value depending on business size, operational processes, and business niche. We put our client's business first.
Get in touch with us, and we will create a perfect solution that precisely fits your company's needs.