Microsoft Power Apps Portals
Microsoft Power Apps Portals (Dynamics 365 Portals) – enables enterprises create corporate-style external websites for a variety of Dynamics apps using pre-built, customizable templates quickly and easily.
The implementation of Power Apps Portal helps the company to build direct and transparent relationships with external partners and customers by removing intermediate links between them and the company's services / goods; minimizes request / application processing time; eliminates the possibility of information loss and human error; automates a number of technical support tasks; allows you to expand sales / support geography due to the ability to customize the portal in several languages; increases customer loyalty, thanks to the availability of 24/7 service from anywhere in the world, from any device.
New users can easily sign up to the Portal by authenticating through LinkedIn, Microsoft, Facebook, and Google profiles, or through corporate platforms including Azure AD B2C and Okta.
Microsoft Power Apps Portals has a few pre-configured templates for the Dynamics family apps (Dynamics 365 Sales, Dynamics 365 Customer Service, Dynamics 365 Field Service, Dynamics 365 Marketing, Dynamics 365 Project Service Automation, and more). This allows companies to easily create web pages for external users that will display the data they need from the Dynamics apps they use (see picture Microsoft Power Apps Portals Data Sources).
Microsoft Power Apps Portals Data Sources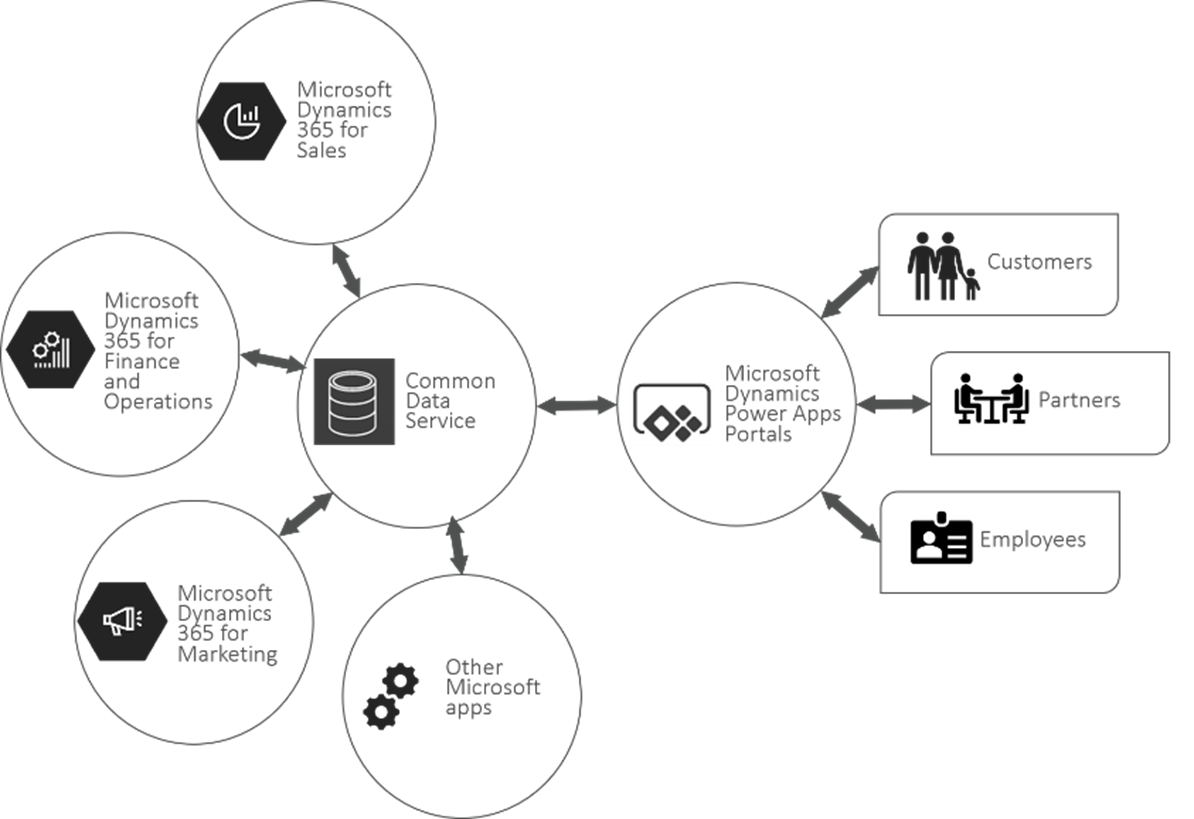 Important: All the features of the Dynamics 365 Portals, previously provided only as an add-on to Microsoft Dynamics 365 apps, are now available autonomously in Power Apps.
Microsoft Power Apps Portals pre-configured templates:
Customer self-service portal. Allows you to organize a customer self-service process, which makes it possible to reduce the burden on internal technical support and increase customer satisfaction. Using the Self-Service Portal, customers can independently find answers to their questions, use a single automated help desk, leave feedback, view incidents, etc.
Partner portal. It is a platform for searching and communicating with partners, distributors, and suppliers in real time. Generally, the Partner Portal offers access to a knowledge base, corporate resources, specialized partner programs, training courses, documents, and certificates.
Employee self-service portal / internal corporate portal. It is at the same time an informational, communicative, and educational internal resource available only to company employees. It also acts as employees' documents storage.
Community portal. Allows you to establish interaction between clients and experts to provide useful information, exchange opinions and professional knowledge. It provides the ability to create and maintain thematic forums and blogs, while clients can ask questions, write reviews, give comments, ratings, etc.
Client portal. Web site for placing B2B orders. Allows you to organize direct interaction with company partners and clients. Allows you to: create and view orders, search and view order details, track orders conditions and statuses, see all financial information on your orders, plan your activities, receive information about new products in time, exchange files, etc.
Power Apps Portals Benefits
Increases income generating opportunities by improving partners and client's communication quality and speed, namely, timely provision of the necessary information, high-quality technical support, processes transparency, prompt response to requests, etc.
Expands potential partners and clients base by organizing a transparent and fast procedure for potential cooperation applications registering on the web portal.
It makes it possible to reduce the support service and sales department load, since users could independently receive answers to their questions, without company employee's involvement.
Significantly saves resources by organizing direct data exchange between client and company. Eliminates information loss and human factor.
Multilingual and 24/7 web portal for user's availability from anywhere in the world, from any device.
Easy to configure (convenient built-in toolkit that does not require development knowledge).
One of our Customers for the Dynamics 365 Portals implementation (Microsoft Power Apps Portals) is the Elcorе Group
According to Yevgeny Morozov, Deputy Director of Strategic Development, Elcore Group: "Using Microsoft Dynamics 365 Portals allows our partners to be more independent, makes working with us as a supplier more modern and convenient. After Portals implementation, our partners were able to independently manage their orders, plan their activities and make high-quality and fast decisions based on transparent data".