An integral attribute of modern civilization development is the extensive and rapid introduction of digital technologies into almost all spheres of human activity. Today, more than 60% of the world's population uses internet technologies in everyday life, and the number of social network users exceeds 3.8 billion people.
Simultaneously with the huge amount of data accumulation, the sustainable development of operational capabilities available to the consumer is progressing, the process of personalizing internet audience needs is improving, and the speed of information transfer is technically improving.
According to analysts' forecasts, by 2025, the average internet user will have to interact with digital data every 18 seconds, which is equivalent to almost five thousand interactions per day, and the total amount of information in the world will reach 163 zettabytes (ZB = 1,021 bytes). At the same time, 60% of information total volume will be generated by commercial enterprises, and 20% of the generated data will be information obtained in real time.
The world innovation leader in developing applications for automating data analysis is Microsoft, which actively invests in Big Data technologies and focuses on making the process of obtaining analytical information as simple, flexible, and adaptive as possible.
Developed by Microsoft – a modern unique technological Power Platform combines four innovative applications: Microsoft Power BI, Microsoft Power Apps, Microsoft Power Automate (Flow), Power Virtual Agents, the use of which allows to analyze, visualize, and automate the process of obtaining data in any sections necessary for business in real time.
With the Microsoft Power Platform implementation, it is easy to organize a prompt and secure exchange of corporate data for all levels of users, taking into account their job responsibilities and areas of responsibility, while minimizing the human factor, even if information is stored in different sources.
Additionally, company employees do not need to have deep technical knowledge and skills or install additional software to visualize information and create automatic processes.
Combining Power BI, Power Apps, Microsoft Automate and Power Virtual Agents with Dynamics 365 apps and Office 365 provides a single data model that includes all your company's business information.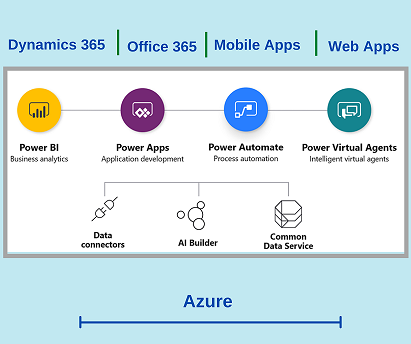 Each application included in Microsoft Power Platform is a separate tool and can be used independently. Moreover, the simultaneous use of all four Power Platform applications makes it possible to fully cover all enterprise data management sources and processes, which makes it possible to increase decision-making speed and quickly respond to changing market conditions.
The Power Platform fully meets the highest level of requirements imposed by modern companies to protect confidential data. The system is based on the global secured and integrated
Azure platform
. All applications support integration with Microsoft Information Protection and Microsoft Cloud App Security, which all together allows security personnel to receive summarized information and analytics on application use, management, and monitoring, and to control user interaction with data 100%.