Implementation of Microsoft Dynamics 365 (AX) in Elcore Group
Elcore Group, is a leading distributor of IT and computer hardware solutions across many different industries with offices in Belarus, Ukraine, Armenia, Moldova, Georgia, Uzbekistan, Tadzhikistan, Turkmenistan, Azerbaijan and Kyrgyzstan.
Elcore Group was established in 1996 and today has more than 20 years of experience on IT market. Elcore Group has ten offices in different countries of the world, more than 100 employees, 33 suppliers and more than 800 partners. Elcore can offer up-to-date IT products and solutions with a proven history of successful delivery.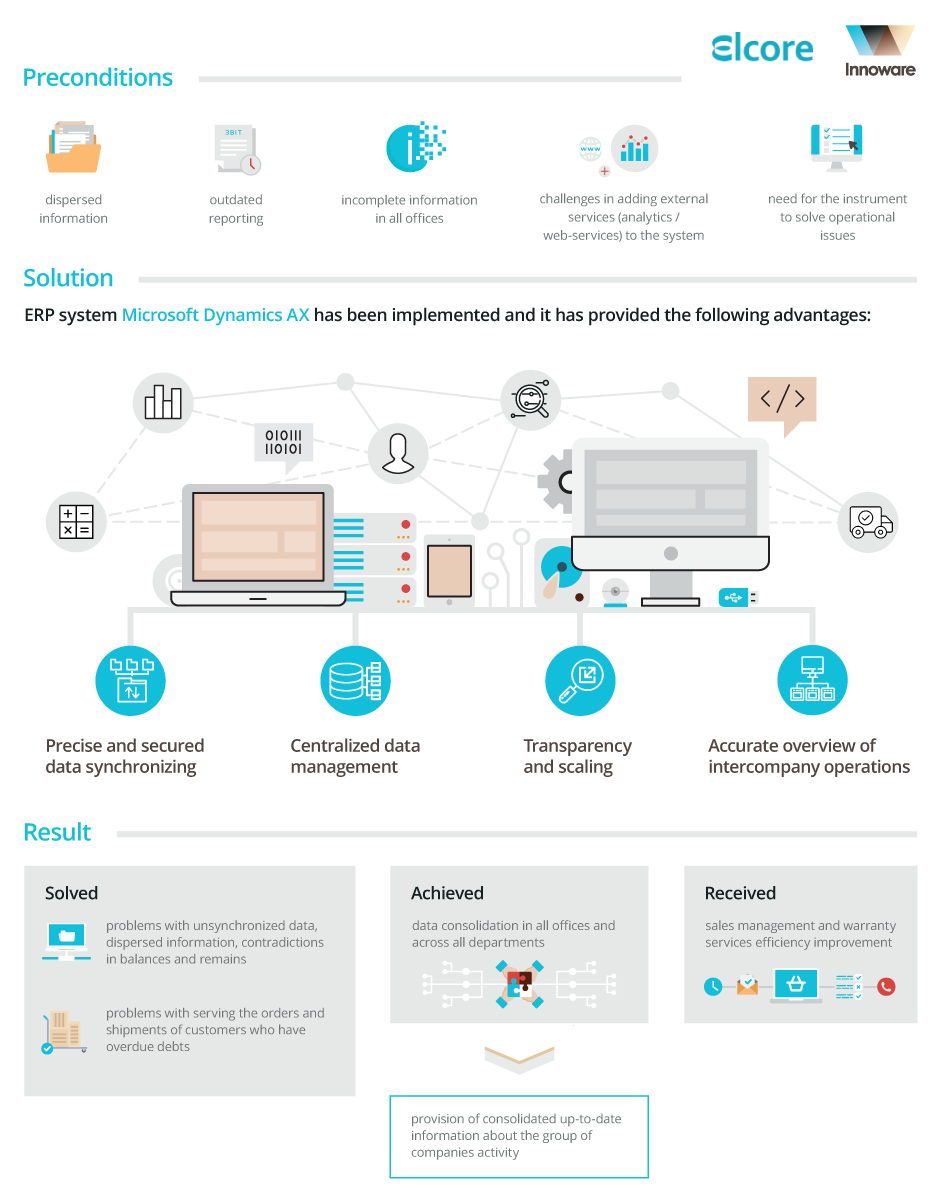 Organizational preconditions
Elcore Group like many expanding companies encountered problems with dispersed information and outdated reporting. This was compounded by having offices in different countries of the world operating complicated logistic chains. To support and manage the growth of the Group it was vital to find a tool, which would help to solve the following urgent tasks:
logistics, manage transferring from suppliers to target warehouse customer;
to manage inventory cost;
to manage accounts receivable;
warranty & post warranty services;
to provide up-to-date and comprehensive information for all offices to support management decisions.
Solution
To solve these tasks, the holding management team selected enterprise resources planning (ERP) system from Microsoft Dynamics AX. This system is suitable for large enterprises, including holdings with several legal entities and offices in different countries of the world. Microsoft Dynamics AX allows management of the enterprise to receive precise information in a timely manner about the company's activity. Elcore Group management team can make well-founded decisions for the entire group.
Result
Thanks to implementation of the ERP system Microsoft Dynamics AX, new opportunities for the company have arisen, namely:
prompt and reliable information about inventory cost of the merchandises moving in holding supply chains;
scaling and management of the storage operations;consolidated information about group of companies;
adding of external services, for example, analytics or web-services;
sold equipment service management;
supporting functions of 3PL (Third Party Logistic) operator.
Yevgen Morozov, Elcore Group Vice General Director, has pointed out that thanks to implementation of the Microsoft Dynamics AX, the company was able to solve problems of data desynchronizing, dispersed information and inconsistency in balances of holding entities.
Select business processes which ERP system should cover