Implementation of Microsoft Dynamics NAV in company
"GfK-USM Ukraine" (Ukraіnіan Surveys & Marketіng Research)
Company "GfK-USM Ukraine" is a Ukrainian division of GfK Group – one of the largest research companies in the world. The basic business areas of the company's Ukrainian division, established in 1998, are quantitative and qualitative researches, branch researches, media researches, consumer scan services (Ad Hoc Research, Non-Food Trackіng, Сonsumer Trackіng, Medіa Research).
More than 13 thousand market research experts combine their own passion to the work with GfK's 80 years' experience in the field of analytics. This allows GfK to combine successfully understanding of global markets with knowledge of the local peculiarities of more than 100 countries of the world.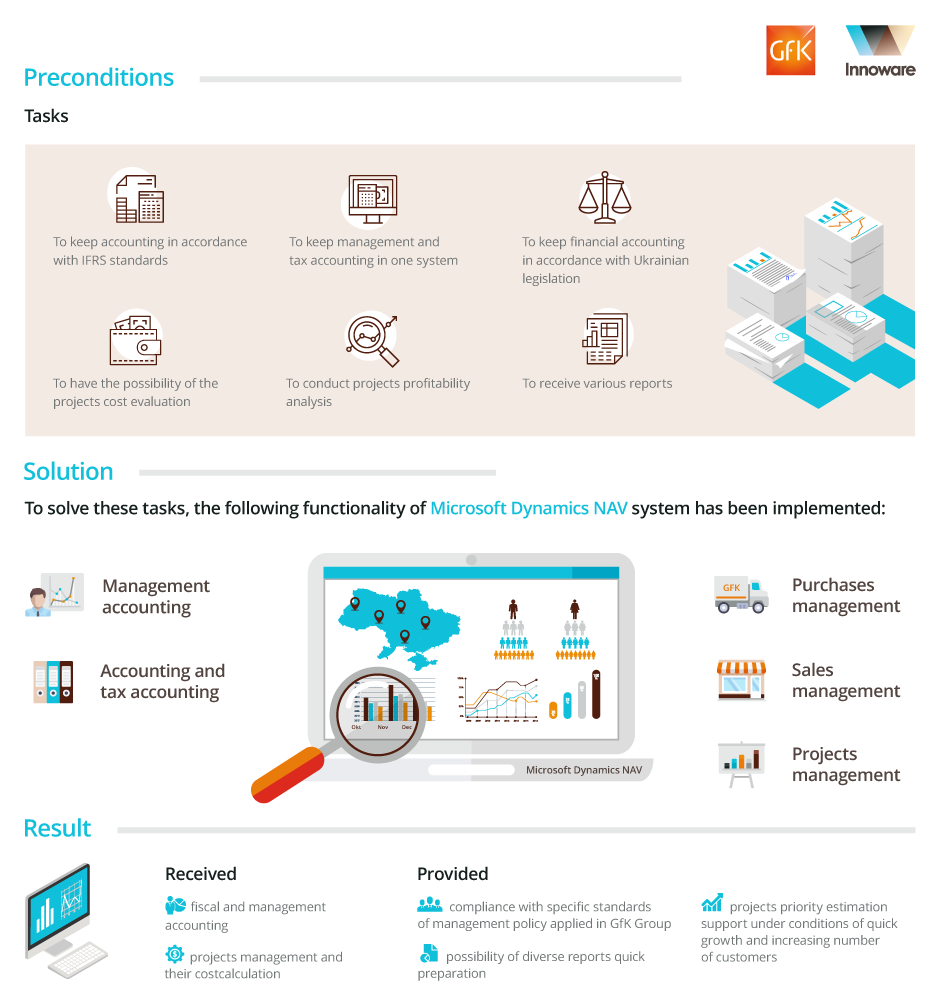 Organizational preconditions
On global level, company GfK is a Mіcrosoft Dynamіcs NAV system corporate user. At the same time, Innoware, as a Microsoft Golden partner, has been entrusted to implement ERP system in compliance with world standards and GfK demands without any interruptions of work process.
Under conditions of quick growth and increasing number of customers, GfK management had the necessity to quickly evaluate importance of every project for the company.
The following basic tasks of the project have been set:
accounting in accordance with International Financial Reporting Standards (P&L accounting, intangible assets accounting, inventory accounting, correspondence with local accounting);
management accounting and tax accounting in one system;
financial accounting in accordance with Ukrainian legislation;
possibility of the project cost evaluation;
projects profitability analysis;
diverse reporting.
Solution
To solve the required tasks, Microsoft Dynamics NAV system has been implemented by Innoware company. It consisted of the following modules:
management accounting;
accounting and tax accounting;
fixed assets accounting;
purchase management (accounts payable);
sales management (accounts receivable);
projects management.
Result
As a result of quick implementation of Microsoft Dynamics NAV, company "GfK-USM Ukraine" has received product for qualitative performing of financial accounting and management. Standard functions of Mіcrosoft Dynamіcs NAV system have provided complete compliance with specific standards of management policies of GfK Group worldwide. It has given the possibility to avoid any unnecessary modifications in the system. Respectively it has also minimized risks of the project and considerably reduced its duration.
In addition, due to the ERP system implementation, company GfK gained the following possibilities:
to prepare various reports quickly;
to manage projects for different businesses and calculate their real cost due to proper distribution of expenses and estimation of the project profitability.
Select business processes which ERP system should cover