«Interkabel Kyiv» is the largest Ukrainian manufacturer of cable and wire products, a leading supplier of fire-resistant cables. It is part of the SKB-Group (Austria) cable factory.
The factory produces a wide range of high-quality cable products, including flame retardant non-aggressive halogen-free cables, halogen-free anti-corrosion cables, air-bundled cables, mine cables, installation cables, flexible cables, power, and armored cables.
The company's products are used in construction, industrial and infrastructure projects in Western and Eastern Europe and the CIS countries. "Interkabel Kyiv" products are used in tunnels, subways, airports, nuclear power plants, coal mines and industrial enterprises in Austria, Germany, Czech Republic, Ukraine, Kazakhstan, Georgia, Moldova, etc.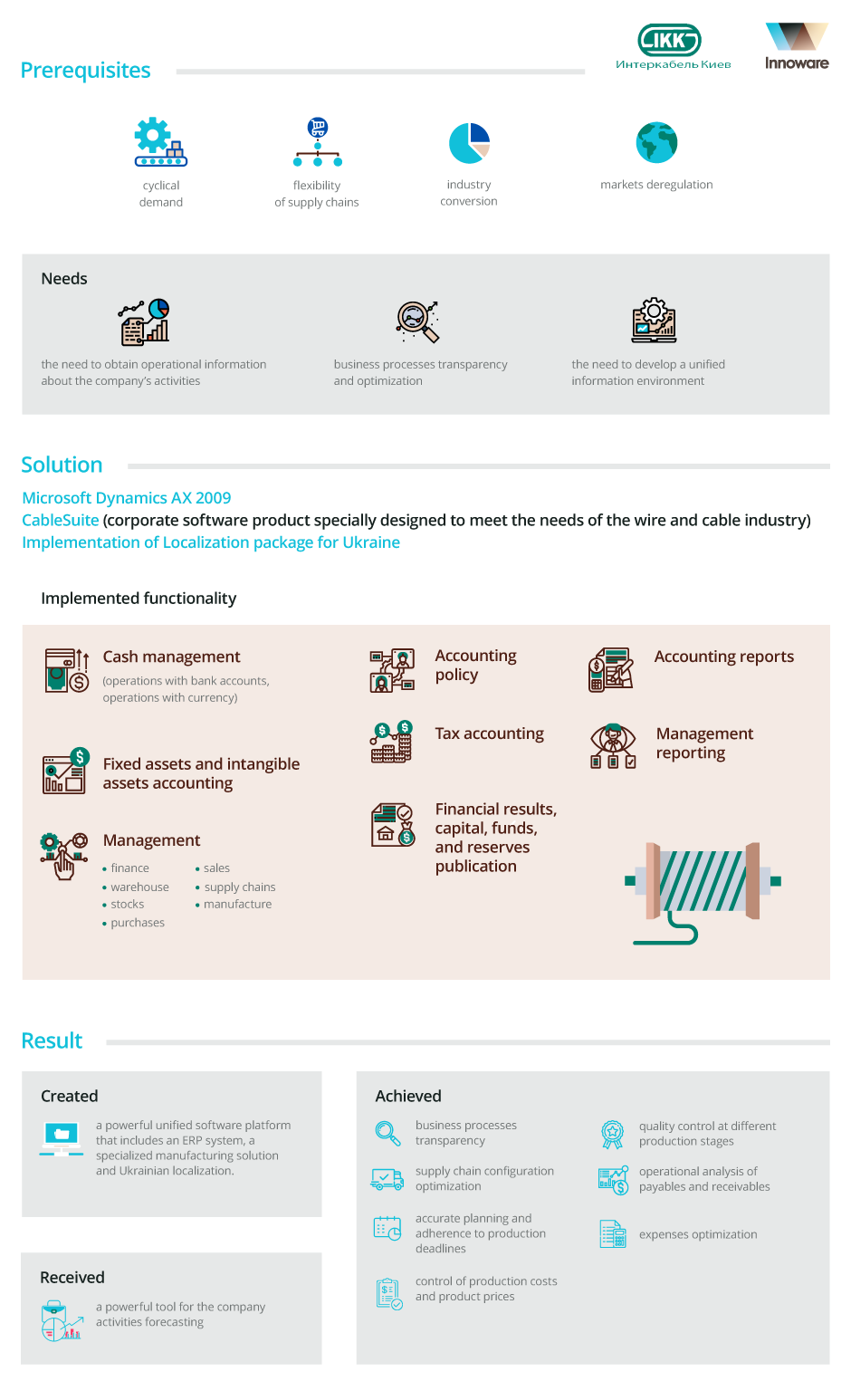 Due to the implementation of Microsoft Dynamics AX, a single powerful software platform was created at the enterprise. It includes:

As the implementation result, the enterprise received the following advantages:

a modern technological environment that serves all the processes of the enterprise and ensures the prompt exchange of credible information between all of its departments;
a unified system for management, accounting, and tax accounting of all operations;
workshop management portal, which allows you to instantly receive information about the status of production orders, the timing of their execution, etc;
products control at all production stages in real time;
the ability to quickly calculate and control production cost, as well as have a reliable toolkit for determining the optimal selling price (uniform corporate rules for controlling prices and discounts);
accounts payable and receivable effective management.
«We recommend Innoware team as a company that is able to adapt and comprehensively implement ERP products. A positive experience at the top management level is a professional ability to work with a project (project management) and a clear, user-friendly implementation methodology. On the part of the Innoware project team, we can note such high personal qualities as the ability to solve complex problems, actively involve the company's employees in the implementation process, and help overcome arising difficulties during the project.».