Implementation of ІW HR&Payroll module based on
Microsoft Dynamics NAV for LEONI Wiring Systems UA, LLC
"LEONI Wiring Systems UA, LLC" (city of Stryi, Lviv region) is one of the world's largest producers of cable braids, wires, cables and wiring systems. Innovative solutions of the company are applied in automobile industry and in such industrial sectors as telecommunication, information technologies, healthcare and power engineering.
LEONI develops and manufactures high-quality products – complex on-board systems with integrated electronics. Wiring systems produced at LEONI plant in Ukraine are supplied to the plants in Poland, Slovakia, Hungary, Czech Republic, Germany, Spain, Portugal, Italy, Belgium, Great Britain, USA, Austria where cars of the leading world brands such as Opel, Porsche, Volkswagen, Audi and Lamborghini are assembled.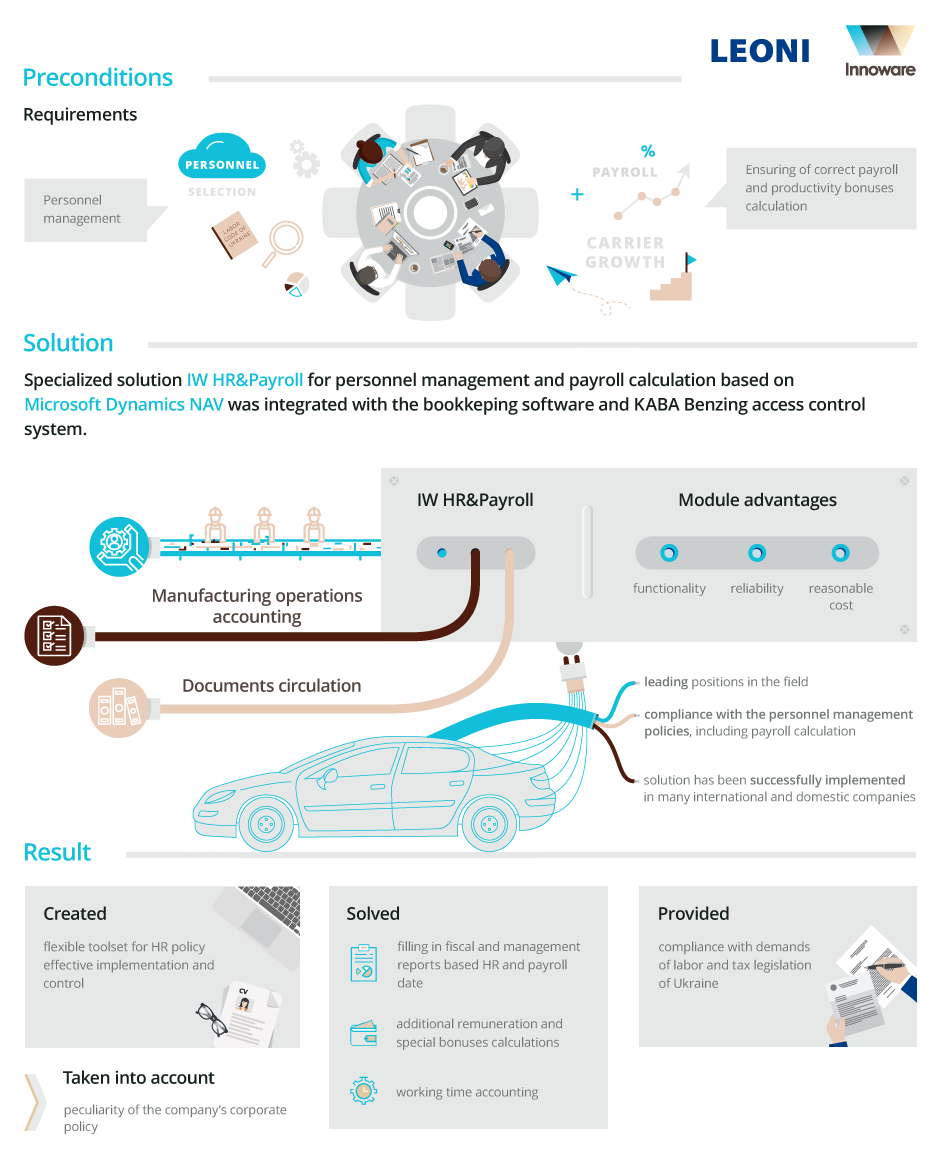 Organizational preconditions
Taking into account the intensive growth of the company's division, it has become necessary to do the following:
to adjust precisely the stuff recruitment system and to manage carrier growth;
to ensure correct payroll and productivity bonuses calculation according to the current legislation of Ukraine.
Solution
In order to solve these tasks, management of the Ukrainian division of the German plant LEONI has chosen specialized solution for personnel management and payroll calculation – ІW HR&Payroll – based on Microsoft Dynamics NAV platform.
ІW HR&Payroll module meets requirements of personnel management policies, including payroll calculation. Basic advantages of the solution are the following: complex personnel management, reliability, functionality and reasonable price.
Integration with the bookkeeping software and KABA Benzіng access control system is the peculiarities of ІW HR&Payroll module implementation at LEONI plant.
Result
As a result of ІW HR&Payroll solution implementation, flexible tool for effective organization and HR policy control of the company has been created. In addition to primary functions, solution includes manufacturing operations and documents circulation records taking into account peculiarity of the company's corporate policy.
Solution ІW HR&Payroll successfully solves the following tasks:
payroll calculating in accordance with legislative and managerial requirements;
personnel management;
additional remuneration and special bonuses calculations;
working time accounting at the plant;
compliance with demands of labor and tax legislation of Ukraine.
This project has been highly appreciated by the IT Director of the LEONI parent company Nіco Hoffman who mentioned it to be one of the best projects implemented in all LEONI divisions worldwide.
Select business processes which ERP system should cover